eNewsLetter, April 2015
A Message From GPMR Program Director
Dear Colleagues, Friends and Alumni of Johns Hopkins General Preventive Medicine Residency Program,

As we enter spring, we're seeing many new opportunities blossom here at the General Preventive Medicine Residency (GPMR) Program. We've recently completed our admissions process for the 2015-2016 academic year and are excited at the six new incoming residents who have been selected to begin in July.

The GPMR Program has also been fortunate to continue to be able to offer residents new learning opportunities. Within the last year or two, we've signed agreements for new, ongoing rotations at the Brookings Institution, the Federal Communications Commission, Sibley Memorial Hospital in Washington, DC (a new addition to the Johns Hopkins system), and Sherpaa, an innovative start-up that serves as personalized consultants for patients and businesses.


In addition, GPMR faculties have been working to expand clinical opportunities for our residents to meet the ACGME's new requirement of all preventive medicine residents for direct patient care. One opportunity that was just initiated has our residents participating in the Baltimore City Health Department's syringe exchange program, where they are traveling in a mobile van to provide clean syringes to IV drug users and education on the emergency use of naloxone. We're looking forward to offering other clinical experience options in the near future.

Finally, the program has been exploring opportunities for additional funding to support resident education. We've recently completed a grant application to the American Cancer Society to train a resident annually in cancer prevention and control. Within the last few weeks, the Health Resources and Services Administration (HRSA) has announced that it is seeking applications to fund a total of $5.4 million to be distributed to over a dozen preventive medicine residency programs later this year.

Though GPMR has the oldest and largest preventive medicine residency program in the country, our ability to reach and connect alumni is only as good as the contact information that we receive and have on record. Please consider sending us your preferred contact data and current employer so that our alumni database remains up-to-date and to help ensure that you'll continue to receive the latest updates on our program.

Thank you, and we hope to hear from you,
Clarence Lam, MD, MPH
Program Updates
GPMR 2015 Grand Rounds
Please join our faculties and residents at the 2015 GPMR Grand Rounds on April 23rd from noon-1:30 PM. A reception and a small group meeting with Dr. Hughes will be held afterward for GPMR faculties and residents.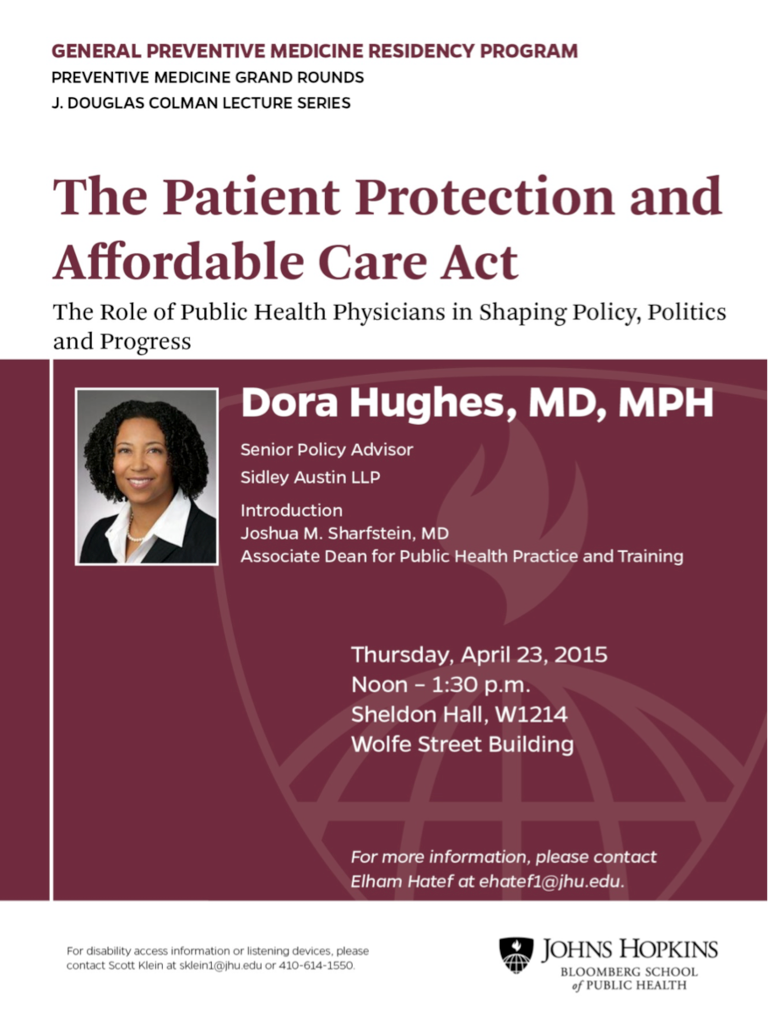 GPMR Residents Updates
GPMR residents joined public health officials, Annapolis lawmakers, and the beverage and beer industry to ban the sale of powdered alcohol before it even hit the market in Maryland.
| | |
| --- | --- |
| DD Defoe, MD, MPH (OBGYN, GPMR 2015) was invited by the Institute for Healthcare Improvement to display her storyboard on "Creating and Evaluating a Pragmatic Quality Improvement Program" at the 16th Annual International Summit on Improving Patient Care in the Office Practice and the Community, took place in Dallas, Texas. Read more. | |
| Shelly Choo, MD, MPH (GPMR 2015) received Donald Gemson Resident Award at ACPM conference. The Don Gemson Resident Award honors a resident member of ACPM for outstanding achievement in community service, scholarship, research, teaching and overall leadership. | |
| Richard Bruno, MD (GPMR, Family Medicine 2017) wrote on plastic microbeads in personal care products in Baltimore Sun. Read more. | |
| Brian Miller, MD, MBA (GPMR 2016) contributed to the "Recent Developments" series, an update published by the American Bar Association's Healthcare and Pharmaceuticals Committee six times annually. Read more. | |
| Xaviuor Walker, MBChB, DTM&H (GPMR 2016) testified at the Maryland Senate Committee Hearing on Mandatory Sick-Leave Bill. Read more. | |
Alumni Updates
Job Opening for Senior Preventive Medicine Physicians
Robert Wood Johnson Foundation Senior Program Officer
Nonprofit Professionals Advisory Group is conducting a search on behalf of the Robert Wood Johnson Foundation for a Senior Program Officer. Below is a link to the longer position description; in brief, the Senior Program Officer will lead efforts to achieve the highest possible value from our nation's investments in improving health and health care, working across the Foundation and the field to promote ideas and investments and develop and expand partnerships that have the greatest impact on the field of public health and health and care systems. The ideal candidate will bring a depth and breadth of experience in direct management or delivery of local or state public health services, including participating in agency accreditation and quality improvement activities. S/he will embody the energy and forward momentum necessary to bridge the gaps between key stakeholders and act as translator, convener, and standard-bearer for RWJF's mission. Full job description.

Callie Carroll serves as the main point of contact for this search. Please reach out to her at ccarroll@nonprofitprofessionals.com or 202-265-0578 to learn more or to network about the position.
| | |
| --- | --- |
| | Robert (Bob) Carr, MD, MPH, FACPM (GPMR 1986) was elected as the ACPM presidents for the next 2 years. Read more. |
| | Robert Allison, MD, MPH (GPMR 2014) will oversee the CDC-sponsored phase II open label, randomized clinical trial of the Ebola vaccine in the Western Districts of Sierra Leone. Read more. |
This newsletter was created by Elham Hatef (GPMR 2014)
and Nina Miller (GPMR 2015)